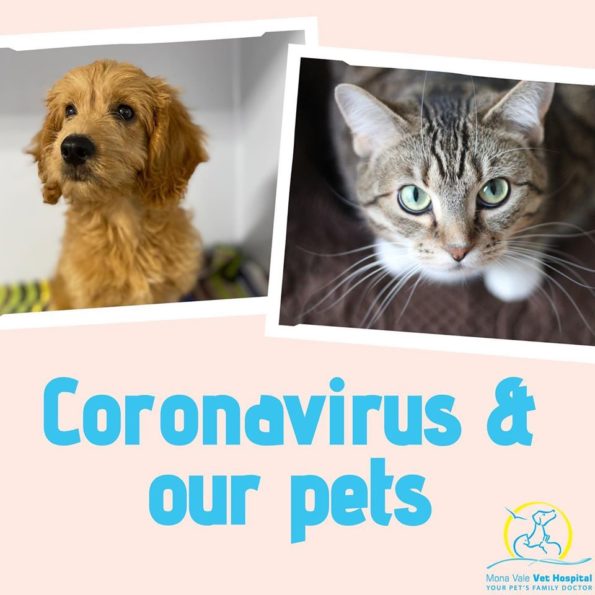 COVID-19 (Coronavirus) and our pets:
At Mona Vale Vet Hospital we strive to provide top quality care for our patients and their owners. Throughout the current CoVID-19 Coronavirus pandemic we want to ensure we can continue to provide this level of care, without impacting the health of our staff, clients & the greater Northern Beaches community.
We don't wish to add to the heightened level of concern surrounding this situation; however, we aim to be as prepared as possible.
Our staff have been advised on how to reduce the risk of the spread of this disease within the hospital. But we need your help:
✅ We ask that all clients with flu-like symptoms: High Temperature, Sore Throat, Cough, Shortness of breath ➡️➡️ please do not enter our premises.
✅ when you do visit us, please utilise the hand sanitisers in reception & consultation rooms and don't feel embarrassed if we don't shake your hand when we greet you.
✅ Please minimise the number of family members coming in to the hospital.
✅ At busy times alert the reception team to your arrival and wait in the car or on the bench in our car park.
✅ We also ask that anyone who has travelled overseas within the last month to make us aware of this prior to attending their appointment.
Equally as important, we have escalated our hygiene practices, with surfaces within the hospitals being wiped over regularly.
We are here to assist you in caring for your pets and continuing their veterinary care.
This includes:
👍 offering a home delivery service for prescription medications, food & preventative products
👍 Offering tele-medicine consultations, so you & your pet can stay in the comfort of home
Thank you for your consideration in this matter. If you have any questions or concerns that you would like to discuss, please don't hesitate to contact us via ☎️ 9999 2269 or 📧 [email protected]
😊😊
Kind Regards,
The Mona Vale Vet Team