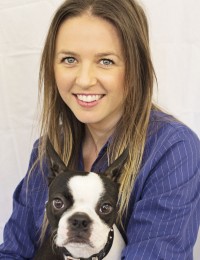 Veterinary Nurse
Alanna is another born and bred local, growing up in Narrabeen. She has been working as a vet nurse at MVVH since 2011.
She has had a many and varied career before finding her true calling! Firstly working as a hairdresser before travelling to Italy in 2006 to study shoemaking – she then established her own shoe label on her return to Australia. Alanna has recently completed studying for her veterinary nurse qualifications graduating at the end of 2013.
Alanna has had many wonderful squashed face canine companions (brachycephalic breeds) throughout her life and this has sparked a special interest in their veterinary care – especially challenging anaesthetic cases. She also enjoys surgical nursing.
Outside of work you will find Alanna buying (more) shoes, reading and cooking. Nelson, the Boston Terrier, is Alanna's canine buddy and a regular MVVH visitor. Many of you may have seen him when you pop by – he has many fans! He is joined by Chucky, the cute domestic short hair feline addition to the family. Alanna is also a mum to 3 preschool human babies, Rocky, Vaida and Rusta.