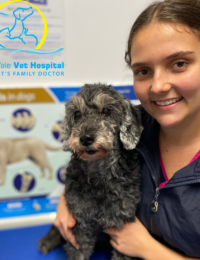 Allie is our junior vet nurse in training, but has been a part of the MVVH team for a number of years already.
We were first introduced to Allie when she completed her Duke of Edinburgh workplace volunteer program in 2018. Showing a great amount of enthusiasm and maturity, especially given her previous 3 years experience with the Taronga Zoo Youth Program (YATZ) learning about animal care and conservation, Allie was offered a kennel hand role. During the few hours of an afternoon after school, Allie would assist our nursing team with general hospital cleaning, washing of patient bedding, litter trays and bowls, plus many other tasks.
Through her exposure of vet clinic life under the guidance of our vet nursing team, Allie decided to embark on a career in vet nursing herself! In February 2020 she began studying the Vet Nursing program through Ultimo Tafe, completing her Certificate II in Animal Studies. She is now halfway through her Certificate IV Vet Nursing.
When asked about her favourite part of vet nursing so far, Allie says "being able to watch the process of animal getting better and hearing from a pet owner that there beloved pet is on the mend makes my day!"
Allie has a naughty Lagotto Romagnolo dog called Wally, and two cheeky Quaker parrots, Zac being a mix of blue and green and Sally being blue.
In the future, Allie would love to one day travel and work as a Vet Nurse in different countries, especially in a Zoo, learning more about how these animals differ from our domestic pets.