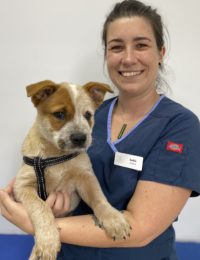 Noticed a kiwi accent amongst the team lately?! It belongs to Vet Nurse Baillie!
Joining us from across the ditch, Baillie gained her vet nursing qualifications in Hamilton, New Zealand. Her first adventure involved a volunteer trip to the Cook Islands, where she helped set up a local vet clinic.
Arriving in Oz, Baillie initially worked at a vet practice in Petersham, before venturing to Melbourne to take up a role with a veterinary dental specialist team. Here Ballie gained extensive knowledge of dental radiology and oral surgery in pets.
Baillie has a domestic short-haired cat called Bonnie, who she rescued as a stray.
We are so pleased to have Baillie join our team, so please give her a big Northern Beaches welcome when you meet her!