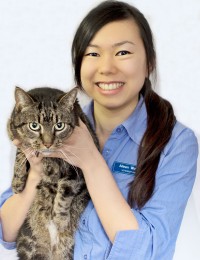 Veterinarian
Dr Aileen was born in Hong Kong but came to Sydney when she was 4, growing up in the Hornsby area.
We first meet Aileen during her in-clinic rotations as part of her veterinary degree at Sydney University. After graduating in 2009 Aileen started her veterinary career with us at MVVH soon after. Aileen completed an intensive post graduate course in diagnostic imaging (mainly focusing on radiology) in 2010 through till 2011. She is currently studying a Graduate Certificate in Small Animal Abdominal Ultrasonography. This will compliment and enhance her special interests in veterinary medicine and imaging.
When asked what are the aspects of her job that she finds most rewarding, Aileen's reply was "I derive lots of satisfaction from assisting in the recovery of unwell animals in hospital, then seeing the joy on both the pet and owner's faces as they are reunited when their pet is leaving the clinic. I also feel privileged to share in all the emotions an owner experiences during different life stages of their pet, from the joy of a new kitten or puppy, to sadness as we relieve suffering at the end of their pet's life." – a true calling!
Outside of work, Aileen can be found at the gym, to try and counteract her love of food and desserts. Aileen & her husband Karsen fur family consists of 3 cats – Zilla, the Burmilla & K-Ci the Russian Blue and Joey a Tabby Domestic Short hair; 2 rescue greyhounds, Waffles and Maple; and Billie, an 11 year old Jack Russel Terrier with atypical Addisons disease, who lives with Aileen's parents.