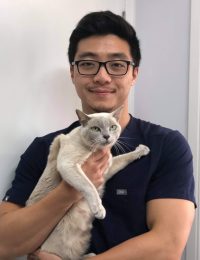 Veterinarian
Dr Chris is a recent addition to our MVVH vet team, joining us in a full time role in December 2019.
Graduating from Sydney University in 2014, Dr Chris spent some time working in clinics on the Northern Beaches. The travel bug then kicked and he headed off to London. After 2 years of working in practices throughout the UK, Dr Chris has returned to the Northern Beaches.
When asked what his favourite part of being a vet is, Dr Chris says tackling the diverse variety of challenging medical and surgical cases each day that general veterinary practice brings – and then being rewarded with an abundance of tail wags and satisfied purrs as a result.
Please welcome Dr Chris to our team and local pet community, where he looks forward to meeting all our MVVH patients and clients!