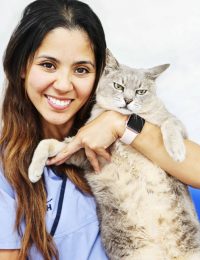 Veterinarian
Dr Rikki was born in Japan, where she spent much of her early childhood years living. From here she spent time living in Singapore and South Africa before arriving in Sydney for the start of high school. Rikki attended Sydney University for her Veterinary studies, graduating with Honours in 2005.
We first meet Rikki during her final year of Vet School when she completed her 5th year internship. Rikki started her veterinary career working at Richmond Vet Hospital, coming to the MVVH team in 2007. Rikki did leave us for 18 months in early 2013 and travelled back to Singapore, as her husband Martin was transferred there for work; where she dealt with various exotic diseases we luckily don't see here in Australia. We gladly welcomed Rikki back to the MVVH team in August 2014!
Rikki has a keen interest in soft tissues surgeries and in recent years has also undertaken post graduate studies in Ultrasonography, enhancing her interest and skills in this unique and exciting area of diagnosis.
In 2011 Rikki travelled t o Thailand, where she spent a month volunteering at the local cat and dog shelter in Kho Samui. She then headed north to an elephant sanctuary in Chang Mai, meeting up with Nurse Tara, where they spent 2 months working with the elephants and local stray cats and dogs.
Rikki's furry children with husband Martin, are 'Mimi', a domestic short hair tortie & Zorro, also a domestic shorthair . Mimi and Zorro are both strays found as kittens in the Mona Vale area. Rikki & Martin hare proud parents to Bindi, a special little lady as she was born deaf, meaning all her training and commands are done through hand signals.