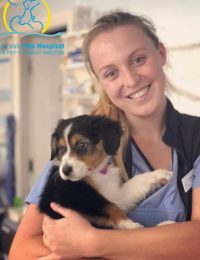 We are so pleased to introduce our newest MVVH Vet, Dr Toni!
Growing up in the English countryside, Dr Toni was constantly surrounded by animals. Here is where her passion developed, especially for horses. She moved to Australia in her high school years and completed her veterinary medicine studies at the University of Sydney.
When asked what her favourite part of being a vet is, Dr Toni says "I absolutely love how every day in this job is different. No day is like the last and every day I learn something new about the job and myself! I love building rewarding relationships with clients and their pets. I appreciate the huge trust that people place in us by allowing us to care for their loved family members. Seeing animals recover from illness and be relieved of pain and suffering gives me a great deal of gratification."
In between her days at MVVH, Dr Toni also assists at Racing NSW, where she continue's her love of working with horses. This involves ensuring the safety and welfare of all the animals on race day, plus assists with preparation and recovery.
Dr Toni has a rescue dog called Pepper, admitting she is absolutely the most spoilt dog in the world!
Please welcome Dr Toni to our team and local pet community, as she looks forward to meeting all our MVVH patients & clients! 😄