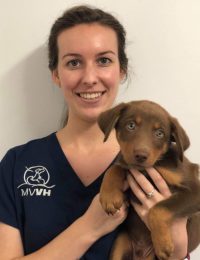 Nicole is our newest MVVH team member, joining the nursing team at the start of 2019.
Having worked in the veterinary industry since 2006, in recent years Nicole has gone back to studying. She gained her Certificate II in animal studies and has recently completed her Certificate IV in Veterinary Nursing.
When asked what her favourite part of vet nursing is, Nicole replies with "Cuddles are pretty great but the nerd in me finds the anatomy and physiology side fascinating and I love seeing patients healing and happy".

Adventure and travels a few years ago took Nicole to Uganda, where she trekked through the jungle to sit with a family of Gorilla's! Highlights included seeing the babies play and watching the silverback male break up a fight between two adolescents.
Last year Nicole also volunteered with a not for profit organisation in a remote indigenous community in the Northern Territory. The group provided free de-sexing surgeries and parasite control as well as a few other procedures. They also collected a census of the community dogs and cats.
Nicole has a 15 year old cat named Princess, who is a total fluff ball, that loves to play with lights and string.