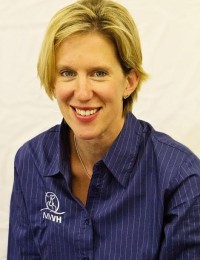 Veterinary Nurse/Certified Puppy School Instructor
Tara grew up in the sunny South West of England, in the Cider County of Somerset.
After finishing college in the UK, she tried her hands at a few things before starting to work in the offices of Devon and Cornwall's Police recruitment facility. There Tara discovered she was more interested in the police dog profiles rather than the human ones and so shifted her focus to the animal world.
Tara found a position as a nursing kennel hand in a specialist referral vet hospital in Devon during 2002 and has worked in the veterinary nursing field since. After emigrating to Australia in 2004,Tara started work at MVVH in 2005 and obtained her Certificate IV in Veterinary nursing in 2008.
Tara loves all aspects of veterinary nursing but her particular interest in animal behaviour has led to further studies in canine behavioural management and training. In 2010 Tara complete her Puppy Instructors course with Vick Austin and in December 2012 she completed her Statement of Attainment in Dog Behavioural Training through TAFE NSW and Steve and Vicki Austins Animal Training and Consultancy – she is now a qualified Dog Trainer with her own business DOGCANDO.
Outside of work, Tara continues to do what she loves, working and training dogs She plays netball, loves to get together with family and friends and enjoys the great outdoors on many camping adventures.
Tara is married to Marty and they have 2 preschool children, Elliot and Liam.
Her furry family includes the newly adopted Tully, a cross breed rescue dog and their 2 cats, Sir Rodney and Lady Morio. They also share their home with plenty of fish in various ponds and tanks.